Watch: 'Flying motorcycle' is put through its paces in Russia
Comments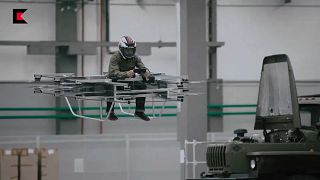 Footage has emerged of what its makers are calling a 'flying motorcycle'.
The device, unveiled by Russia's Kalashnikov Consortium, looks more like a drone, with just its seat reminiscent of a motorbike.
Video was released showing the 'flying motorcycle' on a test flight.
It was done in presence of Sergei Chemezov, who heads up Rostec Corporation, a state-owned military firm which includes the Kalashnikov Consortium.
It comes after a Russian firm released a hover surf bike earlier this year, the first of its kind in the world.