Going fourth: how Angela Merkel went from Kohl's girl to global leader
Comments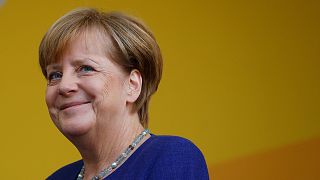 Ever since the German election campaign started, polls indicated that Europe's longest-serving female Chancellor Angela Merkel was likely to emerge triumphant for a fourth term.
And so it proved, as her CDU/CSU bloc emerged the biggest party in the Bundestag.
The shy Protestant pastor's daughter from the Communist East known as "Kohl's girl" has come a long way, from physicist, to politician, to minister to head of Germany's conservative Christian Democratic Union (CDU).
Her first outing as Chancellor came 2005 in a "grand coalition" with her SPD rivals. That turned out far more harmonious than many expected. In contrast, the centre-right coalition she formed in 2009 with the business-friendly Free Democrats (FDP), her more natural partner, proved troublesome. In 2013 the CDU was back with the SPD.
With more years in power than most of her fellow global leaders and fluent in English and Russian, Merkel is perhaps Germany's first "global" leader, voted most powerful woman in the world four times in a row by Time magazine.
The 63 year old faced her biggest challenge as chancellor when migrants and refugees began heading in large numbers for Europe's most successful economy.
By opening Germany's boders to more than 800.000 migrants with the words "we will manage it" in 2015 she earned international praise but also strong criticism at home, This fuelled the success of the populist, right-wing newcomer party Alternative for Germany (AfD) (which is seeking to win its first seats in parliament on its anti-immigration and anti-Islam platform.
At several rallies, particularly in eastern states such as Saxony and Saxony-Anhalt, protesters – many holding campaign posters for the populist AfD party or the far-right NPD, loudly booed Mrs Merkel.
But she faced up to them head-on, hoping to woo those voters still on the fence, away from the Alternative for Germany (AfD).