China claims gold in track cycling at Asian Games
Comments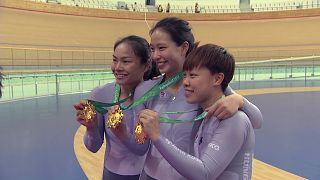 A sporting celebrity back home, Hong Kong's Lee Wai Sze is one of the stars of track cycling at the Asian Indoor and Martial Arts Games in Ashgabat. A former Asian Games and London Olympics champion, she has claimed gold in the women's sprint..
"I think it is important for our sprint team," she told Euronews, "because they are all juniors and they have to win medals and get experience. So I think they did their best. That's what I wanted to see."
Part of the Olympic complex, the 6.000-seat velodrome is expected to host major track cycling events in the future. Its 250-meter track was built using materials imported from Finland and is equipped with state-of-the-art timing equipment.
"This is very simple but highly accurate and rugged device that we place on the surface of the velodrome. It's one big flat switch, so no matter where the cyclists press with their wheels, we get an impulse recorded by the timing device – at ten thousandth of a second – which is then transmitted to our scoring system," says Frederic Key Patton, venue timing and scoring specialist.
As the track cycling events come to a close, athletes are gearing up for other events, including dance-sport, featuring tango, salsa and foxtrot. The 5th Asian Indoor and Martial Arts Games run in Ashgabat until September 27.