UN urges governments to agree to 'legal' channels of migration
Comments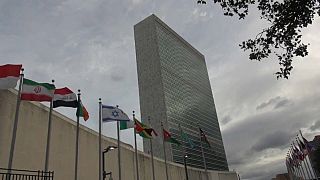 Two senior UN officials have appealed to the EU and its individual member States to agree to open up a legal channel of migration.
A deal between Italy and Libya to shut down the last major corridor to the continent for migrants was recently welcomed by EU countries.
However, Louise Arbour, Special Representative for International Migration (SRSG) said the appeal was not just to Europe but to all governments.
"This is the United Nations, this issue of human mobility and a vast number of people on the move is not just about Europe. I am sure that the Global Compact will reflect the preoccupations that people have. The better Governments, State to State cooperation we can put in place, the less we are going to see this kind of chaotic humanitarian crisis."
Commissioner for European Neighbourhood POlicy, Johannes Hahn says an alternative to handling the migrant situation is to focus on assisting the countries from where the migrants have traveled.
"The aim must be to give people, a possibility, an opportunity to stay, where they have been born. And this is the challenge in particular of the more advanced and more developed countries in the world."
The number of people displaced by conflict and persecution and the rise and complexity of international migration has now hit record levels.