First meeting for Netanyahu and al-Sisi
Comments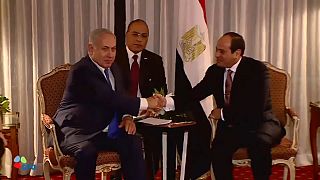 Egypt's President Abdel Fattah al-Sisi and Israeli Prime Minister Benjamin Netanyahu have met for the first time in public in what Egypt said was part of an effort to revive the Middle East peace process.
Separately Sisi met with Palestinian President Mahmoud Abbas, agreeing to continue working toward a two-state solution.
The meeting came just days after Egypt helped broker an agreement with the Palestinian Hamas group to dissolve the administration that runs Gaza and hold talks with Abbas' Fatah movement.
In recent years, Egypt has joined Israel in enforcing a land, sea and air blockade of the Gaza Strip, in order to punish Hamas, which has ruled Gaza since 2007. But Egyptian attitudes to its neighbor remain icy due to what many Arabs see as the continued Israeli occupation of land that is meant to form a Palestinian state.