Australia aims for gold in Ashgabat
Comments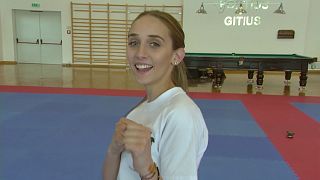 The Asian Indoor and Martial Arts Games are in full swing in the Turkmen capital Ashgabat.
For this fifth edition, new guests has been invited for the first time: Oceanian countries.
Eighteen athletes from Australia are competing in weightlifting, wrestling and Taekwondo, and they are looking forward to the challenge ahead.
"We are going to be looking at Olympic champions, world champions, continental champions, very, very high standards," says John Saul, Australia's Chef de Mission. "So yes, it is going to be a great experience and our team, our athletes, will learn a lot."
Eighteen-year old Deanna Kyriazopoulos started out as a gymnast but soon switched to what is now her passion: Taekwondo. Although she won't be taking home any medals in her category, she says what matters is to participate.
"Our performance is not measured by the podium, it's measured by the way that we feel on the mats," she tells Euronews. "As I say every competition is tough, we have great competitors here from the Asian region but I do not doubt that the Australians can have an amazing performance."
Nor does Australia's Taekwondo coach, Shane Whiteway, who has high expectations for his team: "Obviously you are always thinking about performing to the best of your ability and the goal is to achieve, and of course we want medals, we are going to come home with gold," he says.
Ashgabat is hosting a total of 18 Taekwondo medal events that run until Friday. The Asian Indoor and Martial Arts Games run until September 27.