The Handmaid's Tale and Veep take top prizes at Emmy awards
Comments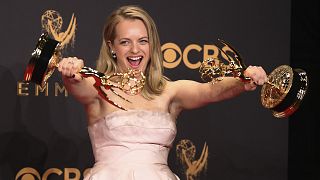 "The Handmaid's Tale" was the big winner at the television Emmy Awards on Sunday night.
Its star Elisabeth Moss was named best drama actress for playing a woman in a dystopian world who's forced into sexual servitude.
Praise be! Elisabeth Moss wins her first #Emmy for #HandmaidsTale after 8 nominations. https://t.co/BdmcrdHihspic.twitter.com/lfMrMergkB

— EntertainmentTonight (@etnow) September 18, 2017
The show, based on Margaret Atwood's best seller, also won awards for writing, directing and for supporting actress Ann Dowd.
The wins also mark a major coup for US streaming service Hulu over its big rivals, Netflix and Amazon.
WATCH: Baldwin trolls Trump while winning Emmy for Trump impersonation: Here is your Emmy https://t.co/Vtrl8sp27mpic.twitter.com/1k5pbLWDUG

— The Hill (@thehill) September 18, 2017
Sterling K. Brown won best dramatic actor for his role as an African-American who is adopted into a white family in the NBC family drama "This Is Us."
Sterling K. Brown Finishes Emmy Speech Backstage After Being Cut Off During Show (Watch) https://t.co/LcdlbMpasv

— Variety (@Variety) September 18, 2017
Chicago native Lena Waithe made Emmy history on Sunday as the first black woman to win for comedy writing https://t.co/7vg4U72ZH5pic.twitter.com/wZdfHhlyvc

— Chicago Tribune (@chicagotribune) September 18, 2017
NBC's "Saturday Night Live" was named best variety sketch series with actor Alec Baldwin won best comedy supporting actor for his impersonations of Donald Trump;
and the White House was again the source for Julia Louis-Dreyfus's sixth successive Emmy for playing egotistical presidential hopeful Selina Meyer in HBO's Veep.
The satirical show also won for Outstanding Comedy series.
WATCH: Baldwin trolls Trump while winning Emmy for Trump impersonation: Here is your Emmy https://t.co/Vtrl8sp27mpic.twitter.com/1k5pbLWDUG

— The Hill (@thehill) September 18, 2017