UK threat level downgraded to severe from critical
Comments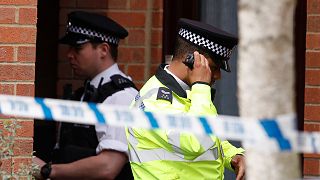 The UK has lowered its national security threat level from critical to severe, after the investigation into a bomb blast on the London Underground progressed.
Interior Minister Amber Rudd said, "following the attack on Parsons Green last Friday, the police have made good progress with what is an ongoing operation."
She continued by saying that the Joint Terrorism Analysis Centre, which reviews the threat level, had decided to downgrade to severe, meaning an attack remains highly likely.
The level had been raised to critical, meaning an attack is expected imminently, on Friday after the bomb injured 30 people on the underground train.
Thanks to the hard work of our police & intelligence services, the UK's threat level has now been lowered from 'critical' to 'severe'. pic.twitter.com/UG7xpTiWo4

— Sadiq Khan (@SadiqKhan) September 17, 2017
'High pace and rapid progress' of #ParsonsGreen investigation continues as threat level returns to 'Severe' https://t.co/uYwloxKLTl

— Terrorism Police UK (@TerrorismPolice) September 17, 2017
The home-made bomb shot flames through a packed carriage at west London's Parsons Green Tube station during the morning rush hour, but apparently failed to detonate fully.
Two men have been arrested in connection with the attack.
West of London, not far from Heathrow Airport, police on Saturday arrested their second suspect so far, a 21-year old man who's being detained in Hounslow under Britain's terrorism lawes.
In connection with the arrest, police were searching a nearby home in Stanwell on Sunday.
The raid at an address in the Spelthorne borough has been linked to an arrest made the previous day in Hounslowhttps://t.co/RNDnY5Gxb2

— Hounslow Chronicle (@HounslowChron) September 17, 2017
Foster parents' home raided
Police also continued to search a house in Sunbury-on-Thames, southwest of London.
Local media have said the home belongs to a couple who have fostered hundreds of children, including refugees.
The BBC said the couple, 88-year-old Ronald Jones and Penelope Jones, 71, had been honoured by Queen Elizabeth for their work.
The Sunbury raid followed the arrest of an 18-year-old suspect in Dover on Saturday.
Police called his arrest — in the departure lounge of Dover port — a "significant" step in the investigation.
Police investigating the Parsons Green attack have been searching a property owned by an elderly foster couple pic.twitter.com/frCKBrlD1W

— The Telegraph (@Telegraph) September 17, 2017
'Most of the street' had complained about foster boy arrested over London tube bomb https://t.co/yMkLTad54Ppic.twitter.com/yvAoxQmGjd

— The Independent (@Independent) September 17, 2017
The last time Britain was put on "critical" alert was after a suicide bomber killed 22 people at the Ariana Grande concert.
On that occasion, the threat level remained at critical for four days while police established whether the bomber had worked alone or with others. Prior to that it had not been triggered since 2007.