What we know: London Underground terrorist attack
Comments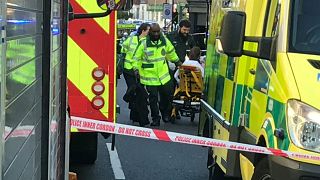 What we know
- An "improvised explosive device" was detonated in a carriage in south-west London at Parsons Green station on Friday, September 16.
– The blast took place on a District Line train going eastbound from Wimbledon at 8:20am
– Police say it is terrorism
– The blast injured 30 people.
– On Saturday morning, 7.50am, police arrest a man, 18, at Dover, a port in southern England and a popular gateway to Europe.
– Later on Saturday, police raid a home in Sunbury, Surrey and evacuate the immediate area.
– ISIL claim responsibility for the attack, the fifth major act of terrorism in the UK this year.
– Terror threat level raised to highest notch, 'critical', throughout the weekend but then downgraded to 'severe' at 4pm on Sunday.
– Armed police guarding key London sites and Premier League football grounds, including Wembley.
– Just before midnight on Saturday, the Metropolitan Police arrest a second man, 21, in the west London suburb of Hounslow.

Where it happened