Catalonia launches independence referendum campaign
Comments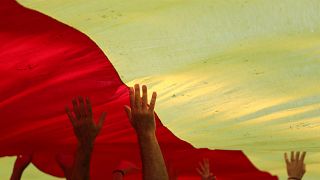 The government of Catalonia launched its official campaign for a referendum on independence from Spain on Thursday.
Crowds filled a bull ring in the northeastern city of Tarragona, shouting "We will vote!" as regional president Carles Puigdemont arrived to rally support for the October 1 vote.
Never mind that Madrid has declared the ballot illegal, Puigdemont was defiant.
"They said that we could not do all of this and now all those people who told us we couldn't do all of this still say we will not vote on October 1," he told those gathered.
"What do you think we will do on October 1? We will vote!"
Puigdemont is facing criminal charges of misuse of public money, disobedience and abuse of office for organising the referendum and prosecutors have summoned hundreds of the region's mayors for questioning.
Barcelona's mayor will allow voting in the Catalan independence referendum https://t.co/oHQoLUtWsU

— POLITICO Europe (@POLITICOEurope) 14 septembre 2017
In a boost for the credibility of the referendum, the mayor of Barcelona said earlier on Thursday that the vote would go ahead in the city, having previously expressed concern that civil servants involved may lose their jobs.
Supporters of independence are celebrating already despite surveys indicating less than 50 percent of Catalonia's population want full self-rule.
with Reuters