German Election 360° in Gelsenkirchen
Comments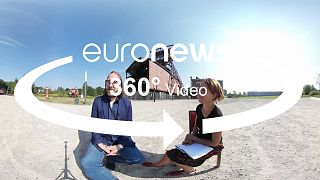 This is the sixth of nine episodes we are going to publish ahead of the German federal elections on 24 September.
There is a lack of vision, because politics is forced to think in election cycles of four or five years.
In this episode, we meet Michael Em Walter, a 35-year-old composer from Gelsenkirchen in the former coal and steel mining hub of the Ruhr.
He writes chamber music but also collaborates with theater directors. Some of his pieces are political. At the moment he is collaborating with a theater director for a piece which will center around the question: What is justice? They asked people all over the country what their claims for justice are.
His home city is known for poverty, unemployment and a high rate of migration.
It's situated in the Ruhr Area in the state of North Rhine-Westphalia, an agglomeration of 53 cities, which has the densest population in Germany with 1,140 inhabitants per square kilometer, far above the national average of 240.
Through industrialization the Ruhr area grew enormously.
People from all over Europe came to work in the coal and steel industry. But with decreasing demand and declining coal prices, most of the mines have closed since the late 1950s.
Just one pit is left in an area that used to boast more than 100 pits, and the last remaining mine is due to close in 2018.
The region has born the brunt of structural change for decades.
While some cities have managed to develop their cultural and creative industries off the back of economic decline, unemployment in the Ruhr has stagnated at around 10 percent – far higher than the national average of 5.6 percent and the state average of 7.5 percent.
Gelsenkirchen itself has the biggest unemployment of the region with currently 14%.