NATO head warns of North Korean threat as Kim celebrates
Comments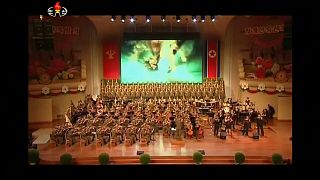 North Korea's "reckless behaviour" is a global threat and requires a global response, the head of the NATO military alliance said on Sunday (September 10).
North Korean leader Kim Jong-un celebrated the scientists and technicians behind his country's nuclear programme. At at concert at Pyongyang's People's Theatre, a screen showed video of what appeared to be hydrogen bombs and nuclear tests.
Saturday (September 9) marked the 69th anniversary of North Korea's founding and one week since the country's last nuclear test. Observers had been bracing for another missile launch to mark the occasion but no fresh provocations were spotted.
Nevertheless, Kim's actions are a threat to international stability, NATO head Jens Stoltenberg told the BBC on Sunday (September 10)
"The reckless behaviour of North Korea is a global threat and requires a global response and that of course also includes NATO."
Stoltenberg would not say if a North Korean attack on the US territory of Guam would trigger NATO's Article 5, whereby an attack on one member of the alliance is considered an attack on all.
Also on Saturday, atomic bomb survivors in the Japanese city Nagasaki staged a sit-in to protest the use of nuclear weapons and urge their government to do more to discourage North Korea's\ nuclear testing.