French artist takes on US immigration debate with border installation
Comments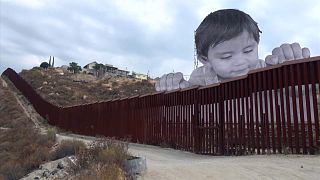 A remote part of the US-Mexico border has a new addition. It's not Donald Trump's promised wall but a photo of a giant toddler peering over the fence that separates the two countries.
The work was installed just as Americans open debate on the legal status of immigrants brought to the US as children.
"As an artist I've seen that is amazing that the piece arrives at a moment that it creates more dialogue," says French artist JR, who created the artwork, "because the idea itself is to raise questions, I do not have the answers."
But for some on the US side of the border, the answer is already clear.
"We need a bigger border fence," said California resident Becky Beret, who has come to take photos of the artwork looming over the steel wall. "We've had things stolen from our property and we live right next to the border, so…"
For those on the Mexican side, the artwork represents their experience, says Lizzy Higareda, whose baby modelled for the photograph:
"Finally art is to be interpreted, they interpret all that is happening, the pain, the sadness, the desperation that they feel in that innocent baby face and I feel that is there when I say: wow."
The installation will remain in Tecate, Mexico for one month. Artist JR, who has focused much of his recent work on immigration, says he hopes people will be able to view it from both sides.