Tennis takes centre court at the Toronto Film Festival
Comments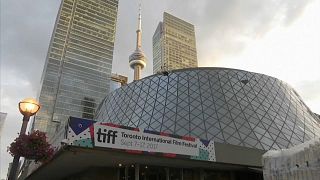 Borg versus McEnroe is a tale of the real-life confrontation on the tennis court that lit up the world of sport.
Björn Borg was the then king of Wimbledon, a cool, level-headed Swede. John McEnroe was the opposite. The American was a brash, up and coming pretender to the crown. The film focuses on their on-court rivalry and contrasting temperaments.
Shia LaBeouf stars as the fiery US tennis star and Sverrir Gudnason as Borg.
Borg versus McEnroe kicked off the Toronto International Film Festival. Continuing the tennis theme at Toronto is Battle of the Sexes. Emma Stone plays Billie Jean King fighting sexism and Bobby Riggs.
The festival, also called TIFF, has become known as one of the most important stops for filmmakers looking to showcase their work in the long awards season that culminates with the Oscars, on March 4.
This year the number of feature films has been trimmed to 260 from around 300 in 2016. the largest slate of any film festival.
"I think it's huge because Toronto is very much seen as an audience festival. Despite all the press that are here, it's geared towards the public," says Toronto Sun film critic and president of Toronto Film Critics Association, Peter Howell.
"The public can get tickets way more than at other festivals and they're very appreciative of film, they love film and it really comes through. So people really love bringing their films to Toronto because they say if you can win that audience in Toronto then you're on your way to Oscars success."
Other movies featuring personal struggles include the world premieres of "Stronger", starring Jake Gyllenhaal as a man who lost both his legs in the 2013 Boston Marathon bombing, and "Kings" in which Halle Berry plays a woman trying to protect her brood of children during the 1992 Los Angeles riots.
Other films on offer include "Suburbicon", a George Clooney-directed satire tackling racial prejudice in 1950s America, and Darren Aronofsky's horror movie "mother!", starring Academy Award winner Jennifer Lawrence.
Angelina Jolie brings her film "First They Killed My Father" about the Khmer Rouge genocide in Cambodia to Toronto, while "Darkest Hour" sees Gary Oldman play British World War Two Prime Minister Winston Churchill.
The festival runs until September 17.