Deadly Hurricane Irma barrels towards Florida
Comments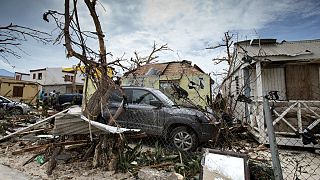 Hurricane Irma is wreaking havoc in the Caribbean destroying buildings and causing serious flooding on small islands in its path.
The natural disaster has so far caused the deaths of at least 13 people.
Emergency efforts are being hampered by difficult access and communication.
French President Emmanuel Macron offered words of support: "We stand side-by-side with those who, in our own country, a few thousand kilometres from here, are destitute, have lost everything, sometimes loved ones, and that we stand with their families who on mainland France as elsewhere are living in fear. The whole country stands with them and all public services are mobilised to come to their aid."
The most powerful storm in a decade with at times wind speeds of 295km/h has howled past Puerto Rico, drenching it, as it heads north of the Dominican Republic.
In Florida residents on the coast are preparing for tidal surges of three to four metres. Meanwhile the authorities have issued evacuation orders.
Rick Scott, Governor of Florida: "We are being very aggressive in our preparation for this storm and every Floridian should take this seriously and be aggressive to protect their family.
President Donald Trump said his administration is keeping an eye on the storm as it approaches the US. Irma is likely to make landfall somewhere in Florida over the weekend.