EU's Barnier 'worried' by UK's position on Irish border
Comments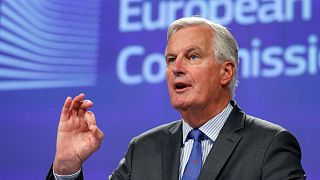 The EU's chief Brexit negotiator Michel Barnier said on Thursday the UK's position on the Northern Irish border is worrisome and that the issue will require a "unique" solution.
Northern Ireland is the only part of the UK that will share a land border with an EU state post-Brexit. There are fears that a return to border checks could undermine peace on the island and hurt the economy.
How the currently invisible border will be managed post-Brexit is one of the key issues on which Brussels wants to see "sufficient progress" before talks begin on a new trade relationship with Britain.
The UK wants to avoid physical checks at the Northern Irish border when it leaves the EU's customs union. It's also calling for small and medium-sized businesses to be exempt from any new customs tariffs.
"What I see in the UK's paper on Ireland and Northern Ireland worries me," Michel Barnier told reporters in Brussels.
"The UK wants the EU to suspend the application of its laws, its customs union and its single market at what will be a new external border for the EU, and the UK wants to use Ireland as a kind of test case for the future EU-UK customs relations. This will not happen," he said.
In a position paper published on Thursday, the EU insisted that the "onus to propose solutions" on Ireland fell on Britain.
"Creativity and flexibility cannot be at the expense of the integrity of the single market and the customs union. This will not be fair for Ireland and this would not be fair for the European Union," Barnier warned.
The issue of how the Irish Republic and Northern Ireland will fare after Britain leaves the EU is particularly sensitive given the decades of violence in the province over whether it should be part of the UK or Ireland.
The EU and the UK government both say the peace process should be preserved, the common travel area between Ireland and the UK protected and that there should be no return to a "hard border".
Brexit negotiations have also made little progress so far on the other two issues the EU wants resolved, namely citizens' rights and the divorce bill Britain will have to pay when it leaves the bloc in March 2019.