Toxic cloud unleashed over Madrid after fire
Comments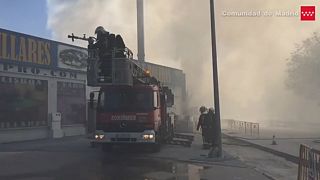 A fire outside an industrial building in Fuenlabrada, southern Madrid, has unleashed a toxic cloud over neighbouring areas on Saturday morning. A pile containing 40 tons of magnesium and aluminum shavings caught fire in the incident.
ℹ️ Incendio en exterior de nave industrial #Fuenlabrada. Calle Sierra de Cazorla. Trabajando #BomberosCM y municipales. Polígono desalojado pic.twitter.com/LB3pzUqC0T

— 112 Comunidad Madrid (@112cmadrid) September 2, 2017
The Spanish emergency services have advised residents of Griñón, Humanes and Moraleja de Enmedio to stay at home. More than 34.500 people are said to live in the areas affected.
A hotel and a second industrial building have been evacuated. A 47-year-old worker was taken to Getafe hospital and treated for second-degree burns.
Windy conditions have helped to spread out the fumes throughout the day, making them weaker and less dangerous to the population.
ℹ️ #Fuenlabrada#Madrid112 envía aviso masivo a ciudadanos de #Humanes, #Moraleja y #Griñón para que permanezcan en sus viviendas pic.twitter.com/mw1ujBJ3TI

— 112 Comunidad Madrid (@112cmadrid) September 2, 2017