George Clooney kicks off 74th Venice Film Festival
Comments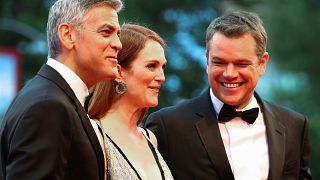 It was giitz and glamour as George Clooney, wife Amal and Matt Damon arrived for the premiere of his movie Suburbicon at the Venice Film Festival.
Breaking the brittle veneer of the picture-perfect suburbs of 1950s America, Clooney's new satire tackles racial prejudice which the actor and director said on Saturday continues to erupt in today's angry society.
Starring Matt Damon and Julianne Moore, Suburbicon is set in a town of that name which is rudely awoken from the American dream by a series of surreal crimes and the residents' furious reaction to a black family's arrival in the neighbourhood.
"This is a movie about our coming to terms with the idea that we have never addressed our issues with race fully," Clooney said after the premiere at the 74th annual Venice film festival.
"We've still got a lot of work to do, from our original sin of slavery and racism."
Damon said last month's violent clashes in Charlottesville, Virginia showed the issues addressed in the film "have not and will not go away until there is an honest reckoning in our country".
Damon plays Gardner, a family man whose home life darkens as tensions rise in the community outside, while Moore plays both his wife and her twin sister.
Based on a script written by Joel and Ethan Coen in the 1980s, the film opens with a cheery prologue promoting the charms of Suburbicon, which include a church and a mall.
But the promise that it is a "melting pot of diversity" is quickly and categorically disproved, and a burgeoning friendship between a white boy and his black neighbour sparks violence.
Clooney, a festival stalwart who got married in a star-studded party in Venice in 2014 and has since made Italy his second home, said the film reflected deep anger in his home country, although he declared, "this isn't a movie about (President) Donald Trump".
"People are angry, a lot of us are angry, angry at ourselves, angry at the way that the country is going, angry at the way the world is going," he said.