Muslims celebrate feast of the sacrifice
Comments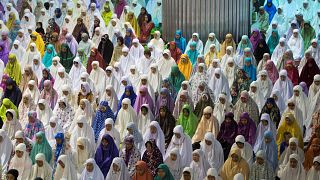 Muslims from around the world have been celebrating the feast of the sacrifice, or Eid al-Adha, one of the two most important holidays of their calendar.
Around two million pilgrims have travelled to Mecca in Saudi Arabia, Islam's holiest city for the holiday, which is a highlight of the the four day haj pilgrimage.
Every Muslim who is fit enough and can afford to do so is required to undertake the pilgrimage.
In Iraq's capital Baghdad the faithful prayed as the temperature rose to forty six degrees.
The holiday marks what Muslims believe was Ibrahim's willingness to sacrifice his own son as an act of obedience to God.
And in remembrance, people slaughter sheep and other livestock, giving the meat to the poor.
In Indonesia, which has the world's most Muslims, over a million livestock are expected to be slaughtered for the festival.
There are around one and a half billion Muslims around the world and only Christianity, with two point three billion, has more followers.
But Islam is the fastest growing religion – in 2008 the Vatican said that for the first time it had overtaken Catholicism as the biggest single denomination religion worldwide.