Storm Harvey flooding to worsen
Comments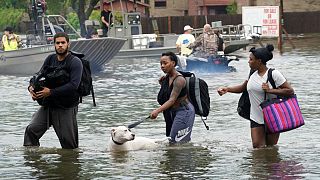 The historic flooding that Tropical Storm Harvey unleashed on the US state of Texas is set to worsen, peaking in the coming days.
A record 75 cm of rain has already fallen on the city of Houston forecasters say that could easily double.
Storm Harvey which made landfall as a category-four hurricane on Friday bringing with it an unprecedented down poor is proving difficult to budge. Its expected to remain over state's Gulf Coast for a while dropping about a years worth of rain in a week threats of flooding extending into neighbouring Louisiana.
Tropical storm warnings have been extended into parts of the Louisiana coast as Harvey runs along the coast Tuesday into Wednesday. pic.twitter.com/lkLLHLUmJ4

— The Weather Channel (@weatherchannel) August 28, 2017
Thousands of people have needed to be removed from their flooded homes. Police and Coast Guard teams have rescued at least 2,000 people so far, plucking them from roof tops by helicopters as they urged those marooned to hang towels or sheets outside to alert rescuers.
Now the race is on to reach those before the waters rise again.
Sylvester Turner, Houston Mayor said that the goal is rescue: That's my directive, is that we want to focus on getting people where they are and getting them out of their homes or whatever their stressful situation maybe."
We're with you, Texas.

Here's how you can help: https://t.co/x1uHLk6×2L#Harvey

— Planned Parenthood (@PPact) August 28, 2017
Some 30,000 people in the city of Houston are expected to be left temporarily homeless, seeking shelter.
And US emergency management officials said on Monday that more than 450,000 people are likely to seek some sort of assistance.
President Donald Trump is to go to Texas later today. He has already signed a disaster proclamation for the state triggering federal relief funds and has now done the same for Louisiana.
The storm has also hit oil production in the area. About half of the US's refining capacity is in the Gulf region and shutdowns have extended across the coast taking around 2.5 million barrels of refining production off line.