Soviet vibe in Budapest as activists mock Putin visit
Comments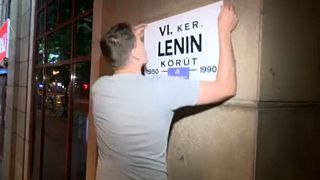 Budapest went back in time early on Monday when activists replaced street names with ones from the communist era.
Call it a special welcome for Russian President Vladimir Putin, in town for the opening ceremony of the World Judo Championships.
The stunt was organized by Momentum, a movement that already made a name by halting Budapest's bid to host the 2024 Olympics, calling it a waste of money.
Its activists are pro-European, and concerned about Putin's second visit to Hungary this year.
Putin was invited as the honorary president of the International Judo Federation, but was also due to meet with Orban, a rare ally in the EU.
Momentum Movement: how Hungary's youth is rising up against Russian influence https://t.co/iIAptDefVjpic.twitter.com/pl73lXNKka

— euronews (@euronews) August 28, 2017
"I don't think we should have any common issues with Putin. It's not about Russia or the Russian people, I simply do not agree with his politics," one Momentum activist told Euronews.
Locals were divided about the visit.
"The world needs various poles of influence. I feel a certain sympathy towards Putin," one man said.
"I totally disagree with the visit. This is Hungary, so the Hungarian leaders should be in charge," said a woman.
"That's the way it is. We can't do anything. Prime Minister Orbán decides," another one said.
Momentum activists handed out replicas of communist-era newspapers and also planned to project the EU flag from a hill overlooking the capital.