Macron's uphill battle: easing French labour rules
Comments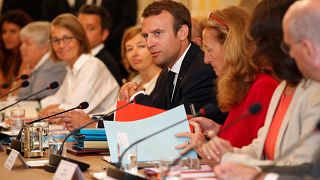 It's a tricky week for French President Emmanuel Macron, as he and his government get back to work, starting with a sweeping labour reform that could spark some mass protests.
Macron gathered his entire government on Monday, telling his ministers they "shouldn't give in to the pessimists" and should carry on working.
The labour law reform – a campaign promise – is due to be unveiled later this week and aims to make it easier for businesses to hire and fire workers, in a bid to boost the wider economy.
The proposed labour law changes include limiting the financial risk of wrongful dismissals and allowing employers to negotiate with unions at local rather than national level.
The far-left CGT trade union has called for a day of strikes and rallies on September 12 to protest against the plans, which it fears will impair workers' bargaining power.
Most of the French agree that current labour rules discourage companies from hiring, but nearly two thirds don't trust Macron and his government to reform them, according to a new Odoxa/RTL poll.
The poll shows that 8 out of 10 people believe that these labour reforms will lead to social conflict as people return to work after the summer break.
"What we need to explain to the French is that if we don't want to have 3.5 million jobless people we need to push forward and reform a certain number of structures and institutions that don't work," Interior Minister Gerard Collomb told reporters outside the Elysee presidential palace.
During a visit to Bucharest last week, Macron said: "France is not a reformable country. Many have tried and they have not succeeded because the French hate reform."
Some of his plans involve uncomfortable changes or spending cuts https://t.co/KpZJQkZWX1

— The Economist (@TheEconomist) August 28, 2017
Sinking poll ratings
Less than four months since he became France's youngest president, Macron has seen his poll ratings tank – and at about 40 percent, they're almost as bad as Donald Trump's.
A poll conducted by France's IFOP for newspaper Journal du Dimanche showed only 40 percent of respondents were satisfied with Macron's presidency, while 57 percent say they are dissatisfied. One in five said they are "deeply unsatisfied."
French government spokesman Christophe Castaner said on Sunday that the ruling party was going through a tricky time, but added that displeasing some people was a price worth paying if the government wanted to push through reforms.
"Yes, we are encountering difficulties, but you cannot just spend your time only looking at polls when you're in government. We are there to transform the country. Our country needs us to take risks, and we are taking risks," Castaner told BFM TV.
The Ifop poll showed the cumulative drop in Macron's popularity ratings since May was bigger than that of previous Socialist president Francois Hollande over the same period.
The poll also showed a drop in popularity for Prime Minister Edouard Philippe, with 47 percent expressing satisfaction with him – down 9 points from last month.
Majority of people in France now dissatisfied with Macronhttps://t.co/6N6whAqXhS

— The Telegraph (@Telegraph) August 28, 2017