Car bombing kills 13 in Afghanistan's Helmand province
Comments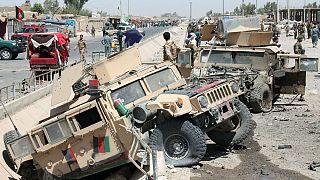 At least 13 people have been killed and many more injured in a car bomb attack in southern Afghanistan.
The attack took place in Helmand province in an area which has recently seen heavy fighting as government forces have battled for control with Taliban insurgents.
Sunday's bombing targeted a military vehicle… the victims included both soldiers and civilians.
The blast comes just days after a deadly car bomb attack near the main police headquarters in Lashkar Gah.
So far no one has claimed responsibility, but there has been a series of attacks since the Taliban launched its so-called Spring offensive. On May 31, a massive bombing in central Kabul killed more than 150 people.