Tillerson separates himself from Trump over Charlottesville
Comments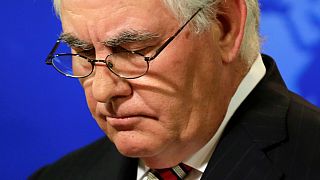 Donald Trump is facing further fall out from his handling of the "violence in Charlottesville"http://www.euronews.com/2017/08/13/carnage-in-charlottesville earlier this month. His Secretary of State has now pointedly separated himself from the president over the issue of race.
It came in an interview on Sunday with Fox News when Rex Tillerson was he was asked about Trump's values and about the president morally equating white supremacists with individuals protesting against them.
"I don't believe anyone doubts the American people's values or the commitment of the American government or the government's agencies to advancing those values and defending those values."
Reporter asks, "and the president's values?
Tillerson replies " The president speaks for himself."
There have been further anti-fascist protests this time in San Francisco at the weekend. Hundreds turned out for the rally despite the authorities having cancelled it fearing it would attract right-wing activists just two weeks after the clashes in Charlottesville.
Good for Tillerson. Watch for Trump's retaliation! https://t.co/0p8DMMGmdY

— Laurence Tribe (@tribelaw) August 27, 2017