Belgian soldiers shoot dead man in Brussels in alleged terrorist attack
Comments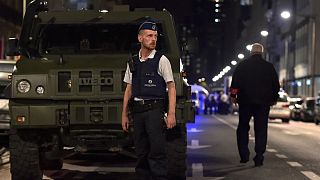 Belgian soldiers have shot dead a man in the centre of Brussels after he came at them with a knife shouting Allahu Akbar – God is great in Arabic. The attacker, a 30-year-old Belgian of Somali origin, was not known to police for terrorist activities but the authorities are treating the case as a terrorist incident.
Brussels' Mayor Philippe Close said the alert status, already just one off the maximum level, has not been increased.
"I want to stress that there was a perfect collaboration between the police, the prosecutors and the army," he said. "The threat level hasn't been raised. According to the first information we have, but we have to wait for more investigation from the police and the prosecutor, it was an isolated act."
Soldiers routinely patrol the streets of the Belgian capital due to a heightened security alert level after Islamist shootings and bomb attacks in Paris in 2015 and Brussels in 2016.
In June, troops shot dead a suspected suicide bomber at Brussels' central train station in an alleged terrorist attack