Belgium debates migrant search law
Comments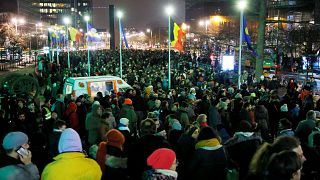 Sunday evening saw protests in Brussels over government plans to arrest migrants and refugees sleeping in a local park.
Belgian lawmakers are now debating measures that would allow police to search private homes suspected of sheltering unauthorised migrants.
Home owners and other residents could also be sanctioned.
The government says the proposed changes are necessary in order to enforce existing laws.
Philipe Pivin is a Member of Parliament with the liberal MR Group: 
"There is no way to execute a warrent to leave Belgian territory if an illegal migrant is in a private home. Whether it is his residence or the residence of a third party, there is no legislation that allows further access and thus allows us to execute the deportation warrant". 
Activists have responded to recent planned arrests by coordinating with local citizens who are willing to shelter people who would otherwise be sleeping outdoors. Some 500 migrants have already been taken in by host families.
"It's a means of intimidating us to try to break the solidarity that we have experienced in Belgium in recent months with the accommodation of migrants by citizens," Mehdi Kassou, an activist with BXLREFUGEES, says of the proposed law. "We think we need a human dynamic across Europe, a policy that is more humane".
The Belgian government has come under scrutiny after Sudanese migrants were deported in coordination with Khartoum, despite concerns about human rights abuses they could face on returning home