The town that bred a terror cell: Ripoll looks to recover from trauma
Comments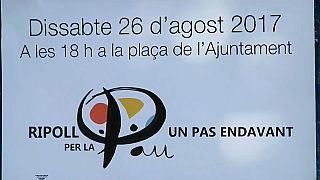 The small Catalan town in the foothills of the Pyrenees was seen as an unlikely hotbed of extremism.
Ripoll – on the Spanish side of the border with France some 50 kilometres away – was profoundly shocked to find it was home to several of the suspects behind last week's terrorist attacks in Barcelona and Cambrils. They are now either dead or in custody.
The local authority is not alone in trying to figure out how the young men – typically described as normal and well integrated – turned to radical Islam.
"Of these boys, some were born here, some grew up here. And all went to school in the town. Some of them were well known because they took part in workshops organised by the town hall. We noticed absolutely nothing," Ripoll's Deputy Mayor Miquel Rovira told Euronews.
One district in particular – a 10-minute walk from the town centre – is home to at least three families of attack suspects. They include Younes Abouyaaqoub, 22-year-old the Moroccan national thought to have driven the van on a murderous rampage down the Ramblas – as well as his brother Houssaine and Omar Hychami, both involved in the Cambrils attack.
"Houssaine Abouyaaqoub and Omar Hychami were more or less my age. I was in school with Omar and I have friends in common with Houssa. Normally we see these kind of things a long way away. To know what happened to people we normally see on the street and who went to school with you is really striking," one young man of 21, who did not want his name identified, told Euronews.
Around one in ten of the town's population of just over 10,000, is of North African origin.
One or two hostile slogans have appeared since the attacks, quickly erased. The mayor says there was no integration problem: we practically all know each other, he said.
A psychological support unit is one of several measures being taken to help people in shock, and it's hoped that one event in particular this weekend will bring people together.
From now on, the people of Ripoll will try to rebuild their lives to recover from this trauma. So, on Saturday night local authorities and other groups are organising a rally at the same time as another in Barcelona with the slogan "Ripoll for peace, a step forward".