Italian PM Paolo Gentiloni marks anniversary of Amatrice quake
Comments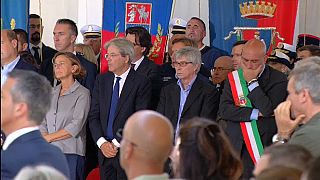 Italian Prime Minister Paolo Gentiloni and government officials have attended a mass to mark the first anniversary of a deadly earthquake in Amatrice.
The 6.2 magnitude quake caused untold damage, wiped out entire villages and killed 299 people.
About 200 families, who had been made homeless by the quake, have so far been rehoused. Sergio Pirozzi, Mayor of Amatrice, said he is confident that all remaining families will be rehoused by the end of September, or mid-October.
There was widespread damage to businesses and homes, forcing a lot of residents into emergency shelters in the once picturesque town.
A year after it was hit by a devastating earthquake, going through the Italian village of Amatrice is "like walking through a war zone." pic.twitter.com/IPgCRptpXB

— dwnews (@dwnews) August 24, 2017