Up to 14 people missing after devastating Swiss landslide
Comments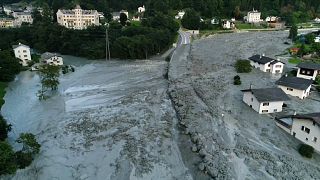 Authorities are now searching for up to 14 people missing for more than one day after a massive landslide struck Switzerland's Piz Cengalo mountain on Wednesday morning. Police say they include German, Austrian and Swiss citizens.
They include citizens of Germany, Austria and Switzerland.
Police say they were unable to reach eight people – six of whom had been reported missing by relatives – despite using thermal sensing and rescue dogs. Another group of six people might also be missing, although it is unclear whether they were in the area or somewhere else.
Four million cubic metres of rock and mud cascaded off the mountain onto the small village of Bondo, near the Italian border.
There were no other casualties or injuries, thanks in part to an alarm system installed in 2012 after a similar devastating rock slide.
The mountain had been under surveillance for several weeks.
Authorities say some buildings were badly damaged and around 200 people were forced to evacuate their homes.
Residents of nearby villages were also evacuated and hikers had to be airlifted to safety.