Barcelona terror probe focuses on imam
Comments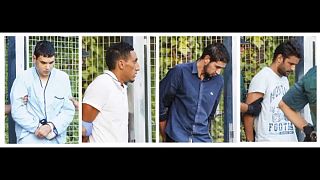 One of the suspect in last weeks Barcelona terror attack has reportedly told a court the Islamist militant cell had planned using gas cylinders to make a powerful bomb, guided by instructed found on the internet.
The group are said to have been planning a major attack on churches or monuments.
The court was told an imam led the group of mainly young Moroccons, coaching them in jihad, teaching them that martydom is good.
Tuesday's (August 22) court hearing was the first in a long legal process. It could be months or even years before the case is brought to a full trial.
After a day-long court hearing, one of the suspects was released on condition that he does not leave Spain.
The three others will remain in police custody, one for further investigation.
Two suspects have been charged with membership of a terrorist group and murder. One was further charged with possession of explosives.
The plan to target monuments went wrong while the plotters were making the explosive devices a day before the Barcelona attacks, killing the imam and another man. The survivors hurried to change tactics, and used a car as a weapon to kill 13 people.
In little more than a year, Islamist militants have used vehicles as weapons to kill nearly 130 people in France, Germany, Britain and now Spain.