These eclipse watchers were more entertaining than the spectacle itself
Comments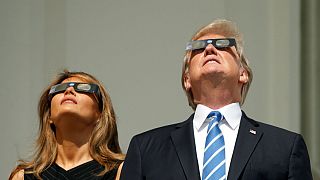 The total solar eclipse wowed the US, with millions of people armed with protective sun glasses watching on in awe as the Moon passed in front of the Sun and cast the country into darkness.
The much-anticipated event drew in one of the biggest crowds in human history.
In fact, some eclipse gazers' reactions were actually more entertaining than the solar phenomenon itself.
Some spectators made sure their pets didn't miss out on the rare event, while others came up with some very inventive ways to view the once-in-a-lifetime event.
A few took the eye protection advice to the extreme, while a certain someone decided to look at the eclipse without any protection.