Total lunar eclipse on July 27: What you need to know
Comments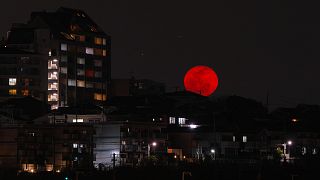 The longest total lunar eclipse of the century will take place on Friday July 27 and Europe is in prime position to admire the spectacle.
What's a lunar eclipse:
A lunar eclipse occurs when the moon passes completely behind Earth and into its shadow. It happens when the sun, the Earth and the moon are perfectly aligned with our planet in the middle, thus blocking sunlight from reaching the moon. The light then appears reddish, hence the "blood moon" name.
Lunar eclipses also only take place when the moon is full.
How is this one different:
The total eclipse on Friday July 27 will be the longest of the 21st century -- from 2001 until 2100 -- spanning one hour, 42 minutes and 57 seconds. Partial eclipses will precede and succeed the total eclipse, meaning that from start to finish, the moon will spend nearly four hours travelling behind Earth.
Another great astronomical event will also take place that night as the Earth is also scheduled to be perfectly aligned with the sun and Mars. It will be Mars's closest approach to our planet in over a decade so the planet will appear bigger in the sky.
Best time to watch it:
According to NASA, the partial eclipse will begin at 7.24 p.m. CET, with the total eclipse starting at 8.30 p.m. CET and ending at 10.13 p.m CET. The partial eclipse will finish at 11.19 p.m. CET.
The greatest eclipse will be admired at 9.22 p.m. CET.
That means that people in Asia and Australia will be able view the eclipse after midnight and before sunrise. In Europe and Africa, the phenomenon will take place in the evening hours, sometime between sunset and midnight on July 27.
Sadly, North Americans will miss out entirely.
But, they will be able to watch it online with channels like Sky-Live TV, which will broadcast it live on its Youtube page — although with Spanish commentary.
Finally, contrary to solar eclipses, lunar eclipses can be viewed without any eye protection.