One dead after van crashes into Marseille bus shelters
Comments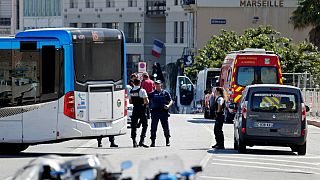 At least one person has been killed and another injured in the French port city of Marseille, after a van crashed into two bus shelters, according to a police source.
Local media are reporting that the person killed was a 42-year-old woman.
The van was intercepted in the city's Vieux Port area, arresting a 35-year-old man.
Prosecutors said there was no information to suggest there was a terrorism link to the incident and that police were looking more at his psychological background.
A Renault Master vehicle was driven into a bus shelter in Marseille's Croix-Rouge district, seriously injuring one person.
It was then driven into a second shelter in the city's Valentine district, killing a woman, according to AFP.
The two incidents took place between about 8.30 and 9.30am on Monday (August 21).
Police have asked people to avoid the Vieux Port area.