Chiming out: London landmark Big Ben falls silent ahead of repairs
Comments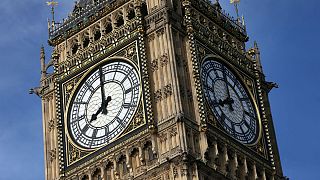 One of London's most familiar tourist attractions has fallen silent ahead of a major repair programme.
Big Ben, which looks down on the UK parliament in Westminster, stopped chiming at midday (British Summer Time) today (August 21).
It's not expected to sound again until 2021.
The bell is set to be put out of use to allow for repairs to the surrounding Elizabeth Tower.
Watch again: Big Ben's last chimes for four years
Nine facts to know about Big Ben
Big Ben is the nickname of the tower's biggest bell, but is used to refer to the whole tower structure.
The tower was officially named Elizabeth Tower in 2012, to toast Queen Elizabeth II's 60 years on the throne. Before that it was called the Clock Tower. It has also been called St Stephen's Tower.
There is some debate about who Big Ben was named after. Some say bare-knuckle boxing champion Ben Caunt but the more likelier is said to be Welsh civil servant Sir Benjamin Hall, who oversaw the installation of the bell.
The bell went into service in 1859, but soon became cracked, because the hammer that was striking it was far too big. A smaller hammer was installed and the bell rotated so it struck away from the fissure.
Coins have been used to keep the clock accurate over its 158-year history. They can be added or removed from the pendulum of the clock. The addition of one penny causes the clock to gain two-fifths of a second in 24 hours. The repairs that begin in 2017 will serve to maintain the clock's mechanics.
But changing the coins is only for the physically fit. The clock tower is 205 feet (62.5 metres) high, with 335 steps to the belfry.
The bell is being stopped on August 21, 2007 for repairs. It was also stopped in 1941 when a workman dropped his hammer into the inner workings of the clock as he was carrying out repairs following a bombing raid. It was also paused during WW1 (it chimed during WW2 but the clock was not illuminated to avoid guiding German bomber pilots). The bells have also been stopped for the funerals of Winston Churchill and Margaret Thatcher.
Big Ben weighs 13.7 tonnes and is 2.7 metres in diameter.
There is even a Twitter account for Big Ben, which helpfully tweets the amount of bongs or chimes the bell makes each hour.
BONGBONGBONGBONGBONGBONGBONGBONGBONGBONG

— Big Ben (@big_ben_clock) August 21, 2017
Take a video tour of Big Ben