Big Ben to suffer longest silence in 157 years with total rebuild
Comments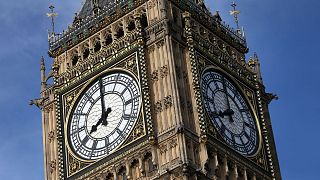 Perhaps the most famous clock in the world, Big Ben in the Palace of Westminster, will soon be silenced, not by bombs or a foreign invader, but father time himself.
The ageing mechanism, like much of the building, is in dire need of repair, so it is all coming down for a total rebuild.
At midday on Monday August 21st, four long years of silence will reign over Britain's capital, nearly the first in 157 years of tolling the hour, every hour.
"We're slowly going to work our way back to the actual mechanism itself. Then we'll stop the mechanism and disassemble it, everything, its last nut and bolt, bring it all down the clock tower, so we can actually work on it at ground level instead of at the top of the tower," explains mechanic Ian Westworth.
The mechanism weighs a whopping five tons, so why take it down to work on it?
"Imagine working next to the bells, every 15 minutes you're getting deafened by longer and longer time periods of bells. So we're actually switching them off for the health and safety of the guys up there," says Westworth.
Big Ben will be back in the 2020s.