Repair work underway on London's iconic Big Ben tower
Comments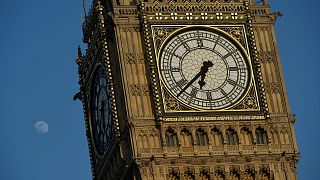 The refurbishment of Big Ben's tower is underway and set to last for three years – its biggest repair job for over three decades.
The 29 million pound (34 million euro) project will see London's famous landmark partially covered in scaffolding, although at least one of the four faces should remain visible.
It's also hoped the clock will only be stopped for a few months, enabling the familiar chimes to continue.
"There are three real elements to it: there is the repairs to the clock itself, there is the repairs to the fabric of the building, and there is what you might call amenity items, which is putting a lift in and a WC – a toilet at high level and kitchen facilities for the clock makers and other staff who have to go up there," said Adam Watrobski, Principal Architect at the Houses of Parliament.
The tower's roof has suffered from corrosion, while water seepage threatens the stonework on the 160-year-old building.
The last significant repair of the clock and 96-metre tower took place in 1983-85. The current project also aims to restore the clock face surrounds to their original colours as designed in 1856 by architects Charles Barry and Augustus Welby Pugin.
The name Big Ben actually only refers to the largest of five bells. The tower was renamed the Elizabeth Tower in 2012 in honour of the Queen's Diamond Jubilee.