Watch: Phone-watching motorcyclist falls into sinkhole
Comments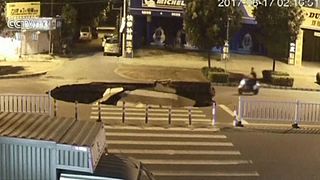 This is the moment a distracted motorcyclist plunged into a sinkhole in China, according to state broadcaster CCTV.
It happened in the south-eastern city of Beihai, 500 kilometres west of Hong Kong.
CCTV says he escaped serious injury.
The man is shown approaching the sinkhole looking at his mobile phone, before falling into the hole.
Sinkholes are created when water dissolves or erodes soluble rock under the surface, such as limestone or gypsum.