Barcelona prays for peace on final day of mourning
Comments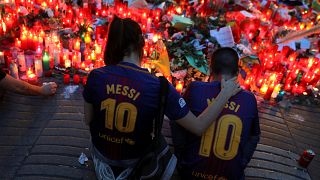 Spain's King Felipe and Queen Letizia, as well as Mariano Rajoy, the country's prime minister all attended mass at Barcelona's Sagrada Familia Basilica on Sunday. Congregants prayed for peace and for the victims of Thursday's twin van attacks that left 14 people dead and more than 120 injured.
At Barcelona's Las Ramblas avenue, people marked the third and final day of official mourning, laying flowers and lighting candles at the site where one of the attacks ended.
Senora Pratz, a local resident, said she got up this morning and decided to pay her respects to "all those people who will never go home".
Another local resident, Ricard Salvia said: "Now we live in fear. Now, every time we get up we turn on the news to see what happened, what didn't happen or what could happen. But we hope and desire that we don't see more terror attacks".
Police have arrested four people in connection with the attack in Barcelona and another in the seaside resort of Cambrils. A manhunt is underway for the driver of one of the vans and for an imam from a mosque in the town of Ripoll.
---
Watch: Barcelona grieves terror victims on the third and final day of official mourning