Air Berlin files for insolvency as Etihad cuts funding
Comments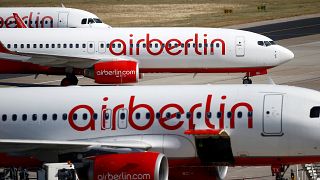 Air Berlin, Germany's second biggest carrier, has filed for bankruptcy protection. After years of heavy losses, its key shareholder, Etihad Airlines, has announced its withdrawing its funds.
But the firm's flights will be able to remain in the air for at least three months thanks to a 150-million euro bridging loan from the German government.
Air Berlin has filled for insolvency. According airberlin</a> all flights will continue as planned and flight schedule remains valid <a href="https://t.co/nVaQUzA8M9">pic.twitter.com/nVaQUzA8M9</a></p>— Flightradar24 (flightradar24) August 15, 2017
Germany's economy minister Brigitte Zypries said the move will allow Air Berlin to negotiate a rescue package for its 7,200 staff.
Lufthansa is currently in talks to take over parts of the business. It's already leased crewed planes from Air Berlin to provide flights by its Eurowings budget airline and has made no secret of its interest in taking on more of Air Berlin's business, although it has said debts and anti-trust issues were potential obstacles.
CEO Thomas Winkelmann confirms:
All flights operated by airberlin & NIKI will continue as planned and our flight schedule remains valid! pic.twitter.com/gbR1vSqMg4

— airberlin (@airberlin) August 15, 2017
Air Berlin. Presseseite. "Something went wrong". pic.twitter.com/NgdYGzNOG3

— Timo Niemeier (@timoe03) August 15, 2017
Air Berlin, which became famous for its "Mallorca shuttle" services, piled up debt after a series of takeovers and bookings have been hit in recent months by concerns over its finances.
It made a net loss in almost every year since 2008 and in 2016 reported a record deficit of 782 million euros, equivalent to more than two million euros a day.
Funding from Etihad, which bought into the airline in 2011, has helped to keep it afloat and the Abu Dhabi-based airline provided an additional 250 million euros in April.
But Etihad has been reviewing its European investments after they failed to bring in expected profits. Alitalia, another of Etihad's investments, is also in administration and is seeking bidders.