UK government to clarify Brexit stance in seeking 'new phase' of talks
Comments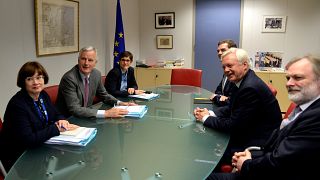 The British government is set to give more details of its aims for life outside the EU, ahead of more negotiations later this month. Brexit Minister David Davis has said London wants talks to move on to a new phase. Brussels has insisted that progress must first be made on divorce arrangements.
"We need to get on with negotiating the bigger issues around our future partnership to ensure we get a deal that delivers a strong UK and EU," Davis said in a statement.
Several policy papers are expected to be published soon – a response to criticism from EU officials that Britain has seemed somewhat unprepared on certain issues.
The reportedly include plans for a new customs arrangement and a proposal on how to resolve the difficult question over the Irish border.
Two leading ministers have patched up their disagreements after Cabinet infighting. In a joint article for the Sunday Telegraph the Chancellor (finance minister) Philip Hammond and Trade Secretary Liam Fox agree that aiming for a fixed transition period will not represent a back door attempt to remain in the EU.
Foreign Secretary Boris Johnson tweeted that the ministers' joint position was the "right way forward" towards a "great new European relationship".
See Fox/Hammond in Telegraph. Right way forward. Create certainty and great new European relationship. Get job done + on with Global Britain

— Boris Johnson (@BorisJohnson) August 13, 2017
Meanwhile former Labour foreign secretary David Miliband has joined the chorus of anti-Brexit voices – using an article in the Observer to call for a second vote to choose between a negotiated deal and staying in the union.
"It is essential that parliament or the public are given the chance to have a straight vote between EU membership and the negotiated alternative," Miliband says.
Tory Brexit policy is chaotic: the fightback against this stitch-up must begin at once https://t.co/QgZsxDqPDV

— David Miliband (@DMiliband) August 12, 2017
This follows withering criticism of the push towards divorce from the EU from former Brexit department adviser James Chapman, who has described Brexit a "catastrophe" and called for a new centrist party to oppose it.
One of the first UK policy papers expected ahead of the talks concerns the border between Northern Ireland and the Irish Republic – the only future land border between the UK and the EU. The government has not commented on reports that it is seeking a Schengen-like free movement area between Britain and Ireland.
Weakened by its reduced majority after June's election, Theresa May's government remains under pressure from advocates of both a so-called "hard" and "soft" Brexit.
A major new survey due to be published later this year reportedly suggests a majority of Britons including former backers of EU membership now favour harder Brexit options, limiting the bloc's influence.
These are the important dates that lie ahead in the Brexit process https://t.co/gQHk8HtFJ5pic.twitter.com/dL0HmoM1Av

— Bloomberg Brexit (@Brexit) August 13, 2017