The FBI opens a civil rights investigation into the Charlottesville violence
Comments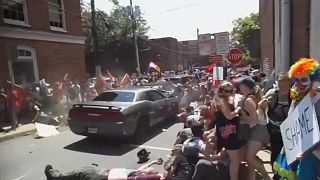 For an updated version of this story clickhere.
A woman was killed and many injured after a car ploughed into a crowd of people protesting a far-right rally in Charlottesville, Virginia.
The dramatic footage, shows protesters attacking the silver sedan with sticks before it reverses back, colliding with people at the rear.
The alleged driver of the car, twenty-year-old James Fields from Ohio, is being held on suspicion of second-degree murder.
The FBI has opened a civil rights investigation into the incident.
The governor of Virginia, Terry McAuliffe spoke to the media shortly afterwards. "And I have a message to all the white supremacists and the Nazis who came into Charlottesville today. Our message is plain and simple. Go home," he said. "You are not wanted in this great commonwealth. Shame on you. You pretend that you are patriots but you are anything but a patriot."

The acts and rhetoric in #Charlottesville over past 24 hours are unacceptable & must stop. A right to speech is not a right to violence.

— Terry McAuliffe (@GovernorVA) August 12, 2017
The "Unite the Right" march was called to protest against plans to remove a statue of General Lee, who had fought for the pro-slavery Confederacy during the US Civil War.
President Trump said he condemned the violence and hatred.
"We are closely following the terrible events unfolding in Charlottesville, Virginia. We condemn in the strongest possible terms this egregious display of hatred, bigotry and violence on many sides, on many sides. "
We ALL must be united & condemn all that hate stands for. There is no place for this kind of violence in America. Lets come together as one!

— Donald J. Trump (@realDonaldTrump) August 12, 2017
A short time after the violence erupted, a police helicopter crashed, killing two troopers. Virginia State Police said the helicopter was assisting law enforcement officers monitoring the rally.
A state of emergency has now been declared.