Perfectly-preserved 100-year-old fruitcake 'found in Antarctica'
Comments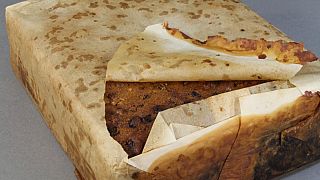 A perfectly-preserved fruitcake believed to be more than 100 years old has been found in a hut in Antarctica, say conservationists.
The dessert probably dates to British explorer Robert Falcon Scott's ill-fated expedition to the region, according to the Antarctic Heritage Trust.
Scott's party reached the South Pole in January 1912, only to discover a Norwegian team had beaten them there.
All the men died on the return journey.
The trust linked the cake to Scott's expedition because "it has been documented that Scott took this particular brand of cake with him at that time".
Conservationists said the cake, found in a Huntley & Palmers tin, still looked good and smelt (almost) edible.
It was discovered as the trust was working through 1500 artefacts from buildings at Cape Adare, East Antarctica.
Lizzie Meek, the trust's programme manager for artefacts, said "With just two weeks to go on the conservation of the Cape Adare artefacts, finding such a perfectly-preserved fruitcake in amongst the last handful of unidentified and severely corroded tins was quite a surprise.
"It's an ideal high-energy food for Antarctic conditions, and is still a favourite item on modern trips to the Ice."