'Like a light at the end of the tunnel': Bosnian memories of Princess Diana
Comments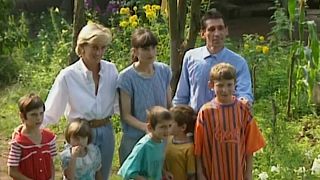 She was the surprise visitor to a family who paid a high price for Bosnia's war.
It was August 9, 1997 and shortly before her death, Princess Diana met Muhamed and Suada Suljkanovic and their children in a village near Tuzla.
Twenty years on, now grandparents, the couple are remembering her kindness.
"Diana and her friend Ken, the American, they brought a birthday cake, and they sang 'Happy Birthday' to him (Muhamed), and we were in shock," said Suada.
"How did they know? It was Muhamed's birthday that day and they brought the cake."
Muhamed had lost both his feet after stepping on a landmine.
The princess was campaigning to support landmine victims. She promised him financial aid. Britain's Royal Family sent it, after she died.
After Princess Diana died the Suljkanovic family in Bosnia received a donation as she vowed to pay for a new prosthesis pic.twitter.com/ZjoWSCjqLL

— The Telegraph (@Telegraph) 9 août 2017
And that is not the only lasting legacy of her visit. On hearing of her death, the couple named their daughter Diana, in honour of the princess.
Bosnia marks 20th anniversary of Princess Diana's visit to meet with victims of land-mine blasts https://t.co/C6tGbX3p4Hpic.twitter.com/jel2NPabfZ

— Bloomberg (@business) 10 août 2017
Diana was in Bosnia with the Landmine Survivors Network, founded by two US landmine victims, Ken Rutherford and Jerry White.
During her trip, she also met child victims including Malic Bradaric, then aged 14, who lost most of his right leg when he stepped on a mine while playing.
He describes Diana's surprise visit as "like a light at the end of the tunnel".
"Yes, we were just small boys then," said Malic, now 34-years-old.
"At our age… we were left without a piece of our body. And just a few days after the visit, we received horrific news that Diana had died…So in a way, that light that we had at the end of the tunnel, it just went out, like that, on that day."
Diana's trip brought hope to Bosnia, a land scattered with mines and their victims.
It was a hopeful time, too, for the princess.
As she left Sarajevo, at last a bright future beckoned.
However, within the month, on August 31, Diana had died in a car crash in Paris.
How Prince Harry is continuing Princess Diana's legacy in the fight against landmines https://t.co/n2sL2rxhEp via @PeopleRoyalspic.twitter.com/DwqWGbfL0N

— People (@people) 5 avril 2017