Watch: Four people narrowly avoid death on train crossing
Comments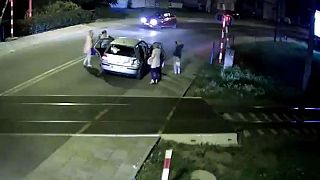 Four people narrowly avoided serious injury when a train grazed their car in Koszalin, Poland.
In CCTV footage released by Polish rail company PKP Polskie Linie Kolejowe S.A., the driver of the vehicle appears to smash through the barrier of a level crossing with just clearing a railway line.
A train arrives moments later but, luckily for the passengers, only clips the back of the car.
No one was seriously hurt in the accident.