Putin goes fishing: How was the Russian president's catch?
Comments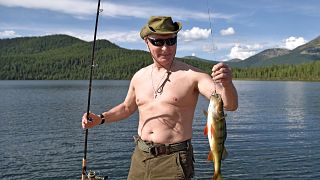 The Kremlin released video and pictures on Saturday, August 5, of Russian President Vladimir Putin taking part in a three-day fishing and hunting trip in southern Siberia.
Footage showing the 64-year-old spear-fishing, swimming and sunbathing alongside Defence Minister Sergei Shoigu in the republic of Tyva on the Mongolian border.
Mr Putin, who is also a fan of martial arts and ice hockey, has previously released publicity videos showing his outdoor skills.
The videos have previously helped his popularity ratings in Russia with this trip coming eight months before Russia's presidential election next March, although Mr Putin has yet to announce his candidacy
"He went hunting underwater with a mask and snorkel … The president chased after one pike for two hours, there was no way he could shoot it, but in the end, he got what he wanted," Kremlin spokesman Dmitry Peskov said on Friday (August 4).