Putin wins gala ice hockey match in Sochi
Comments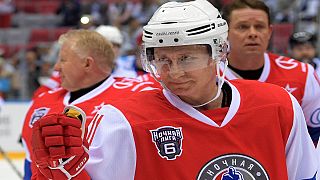 Russian President Vladimir Putin yesterday, May 10, took part in a gala ice hockey match Sochi's Bolshoy Ice Dome.
Wearing his traditional number 11 shirt, the Russian leader, along with teammates including the likes of Russian Defense Minister Sergei Shoigu and Olympic champion Viacheslav Fetisov, won the match 17-6.
During his 15 years as the country's president, Putin has frequently taken part in hockey matches an attempt to promote the sport as well as displaying his judo and swimming skills.
After the match, Putin toldCBS News foreign correspondent Elizabeth Palmer that he had"nothing to do with" U.S. President Donald Trump's firing of FBI director James Comey.