Venezuela swears in its new constituent assembly
Comments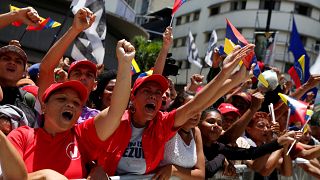 Venezuela has inaugurated its new legislative superbody that's expected to rewrite the constitution and give vast new powers to the ruling Socialist Party.
The controversial assembly's first act of business was electing former Foreign Minister Delcy Rodriguez, a close ally to President Nicolas Maduro, to lead the body.
The 545 delegates were sworn in just yards from the chamber where the opposition-controlled National Assembly meets.
Sunday's election received worldwide condemnation for undermining democratic freedoms.
Opposition leaders Antonio Ledezma and Leopoldo Lopez had urged Venezuelans to protest against the body.
Shortly before the inauguration they were once again placed under house arrest after being jailed on tuesday.