Fire engulfs Dubai's 'Torch' skyscraper for second time
Comments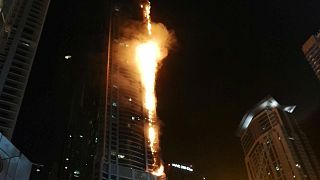 A fire ripped through one of the world's tallest residential towers in Dubai on Friday, forcing hundreds of occupants to flee the 337 metre-tall, 79-storey structure.
It's the second blaze to sweep through the high-rise – which happens to be called the Torch tower – in just two years.
The building was evacuated, no injuries were reported, and there was no immediate word on the cause of the blaze.
"We were sleeping and we woke up to the fire alarm and people screaming. We ran down the stairs and it took us about 10 minutes to reach from the 50th floor," a resident who gave his name as George told Reuters.
Dubai's civil defence authorities said firefighting squads put out the blaze at around 4.00 am local time (0000 GMT) and were cooling the building. The government said it was working on providing shelter for those affected.
The incident may revive questions about the safety of materials used on the exteriors of tall buildings across the world.
An investigation by the management of the Torch after its 2015 fire found that most of the damage was to the cladding, exterior panelling used for decoration or insulation.
In the UK, police have said they believe the system of insulation and cladding panels on London's Grenfell Tower may have contributed to the rapid spread of a fire there in June in which some 80 people died.