Netanyahu rewards evicted Jewish settlers with new West Bank home
Comments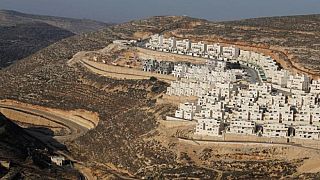 The subject of Israeli settlements on Palestinian land occupied by Israel since the 1967 war is one of the most divisive between the two peoples.
Now Israeli Prime Minister Benjamin Netanyahu has laid the foundation stone for Bitar Illit, in the West Bank. This new settlement will rehouse residents of Amona, an illegal settlement shut down by the Supreme Court.
"We met with all the authorities – ministries of defence, housing and finance – in order to renew the work to establish the community of Amichai for the evacuees of Amona. They deserve a home, as soon as possible. There is no government that does more for the settlements than the government that I lead," said Netanyahu.
US President Donald Trump has been silent about settlement growth and Palestinian leaders say this failure to support the two-state solution encouraged "apartheid" Israeli policies.
Amona was forcibly evacuated last February enraging Netanyahu's hard-right coalition allies, and he has come under international pressure to stop expansion and evict illegal settlers.