Princess Diana: 'Her legacy is William and Harry'
Comments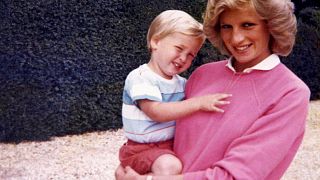 "She tore up that royal rulebook."
So says the man Princess Diana called her 'Rock' – her former butler Paul Burrell.
As the 20th anniversary of her death approaches, he is reflecting on the lasting impact of Diana's life.
"She changed the rules of the House of Windsor forever and strangely she changed the rules so that Kate (Middleton), for instance, would have an easier passage, an easier life and that her sons could marry and have a fairly ordinary, normal life, that she never had, because her life was played out on the public stage," Burrell said.
Prince must use 20th anniversary to keep Diana's memory alive, says Paul Burrell https://t.co/ceNRuSGO5epic.twitter.com/FcQSr6HqIx

— Mirror Royal (@MirrorRoyal) 29 mai 2017
Diana was a star – beautiful, enigmatic, and always in the headlines.
Then came that fatal car crash in Paris.
Diana, first wife of the heir to the British throne Prince Charles, died aged 36 on August 31, 1997, after the limousine carrying her and her lover Dodi al-Fayed crashed in a tunnel as it tried to escape paparazzi who were chasing them on motorbikes.
Her death triggered an unprecedented public outpouring of grief in Britain and deeply personal tragedy for her two young sons William and Harry, then aged 15 and 12.
Prince Harry's memory of Princess Diana's funeral is heartbreaking https://t.co/EJduhmC52tpic.twitter.com/bZbuKfVzjf

— Harper's Bazaar UK (@BazaarUK) 22 juin 2017
Their mother had led the way with her campaigning and charity work – including with HIV-AIDS patients, at a time when a terrible stigma was attached to the virus.
Diana's boys have shown increasingly over recent years that they are following in her footsteps.
This month marks 20 years since the death of Princess Diana, but the impact she made on the world hasn't faded. ❤️ pic.twitter.com/bVLJyEsJhQ

— People (@people) 1 août 2017
"Her legacy are William and Harry and they will continue Diana's work. They will go forward with everything that was important to her and that's right," Burrell said.
Twenty years on, life for Paul Burrell has changed.
No longer a royal butler, he runs a flower shop in northern England.
He and his wife Maria have divorced and, having come out as gay, Burrell has married his male partner.
Over the years, he has written extensively about his time with the princess. His revelations, featured in the tabloid press, have prompted criticism, including from Diana's sons.
Burrell has always argued that he has done nothing but defend a woman he describes as an "icon of our times".
Prince William, Prince Harry talk about the last conversation they had with Princess Diana: https://t.co/UxH3yIlcI1pic.twitter.com/ARK6aLEMVO

— Yahoo Canada (@YahooCanada) 24 juillet 2017
His former boss famously wanted to be the "queen of people's hearts".
Diana's 'Rock' says we won't see the likes of her again, in our lifetime.
with Reuters